Join a growing tech champion
Our vision is to become the world's leading AI-powered engine for autonomous transport planning, and we are always looking for smart people who want to grow and develop together with us.
Do you want to revolutionise an entire industry with our SaaS software? Digitalisation is your thing and you want to build something big with us? Then show us your talent and apply for one of our positions.
You couldn't find the position you were looking for? That doesn't matter – just send us an unsolicited application!
We look forward to hearing from you!
What is important for us
We focus on customer value & our vision
Everything we do is in the spirit of our customers and our vision.
We live ownership but we act as a team
Everyone takes responsibility for their own area, but as a team we make our ideas really big!
We strive for simplicity & scalability
We think smart and act straightforward.
We love logistics & AI Development
We are proud of our product and want to revolutionise the logistics industry together.
That's what our team say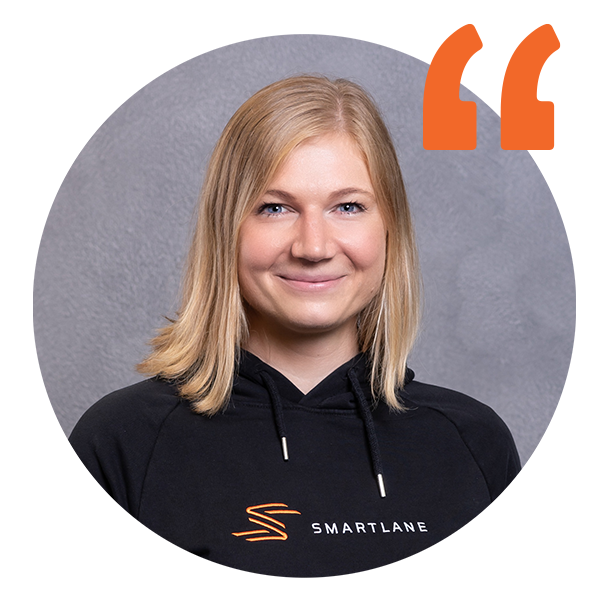 At Smartlane, I work directly on the software and code and do my best to improve it every day. At the same time, I get exciting insights into operational transport processes through customer contact and support. It is always a sense of achievement to see the features I have developed directly in live operation at the customer.
Carolin, Customer Success Engineer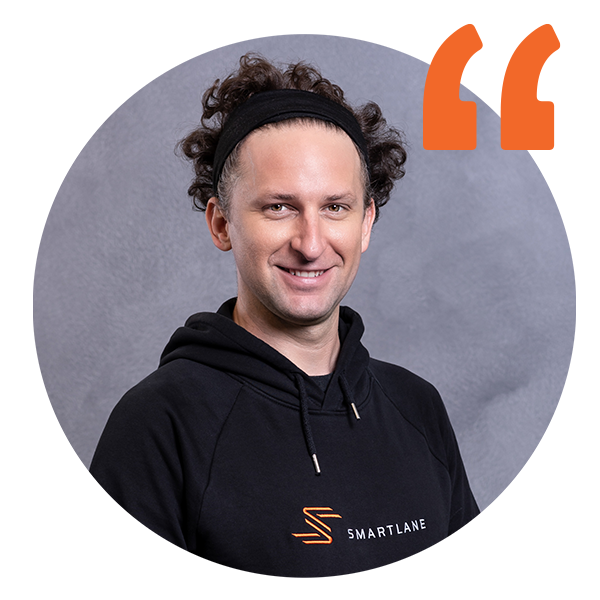 We are developing an AI-based engine that enables autonomous and optimised transport planning for companies worldwide. The development of such a complex and future-oriented product is an exciting challenge. If you also want to shape the tech future of tomorrow, then you've come to the right place!
Edward, Head of Engineering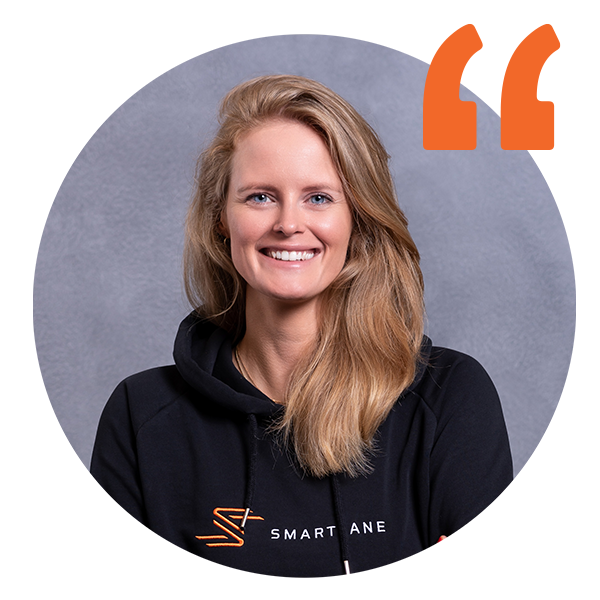 We are changing one of the biggest industries in the world – this means working closely with great customers in exciting projects. But also includes doing the best work and having a lot of personal responsibility right from the start. As a Sales Development Manager, I am always looking ahead and am looking forward not only to growing together with Smartlane, but also to accompanying our customers in their successes.
Lea, Team Lead Sales Development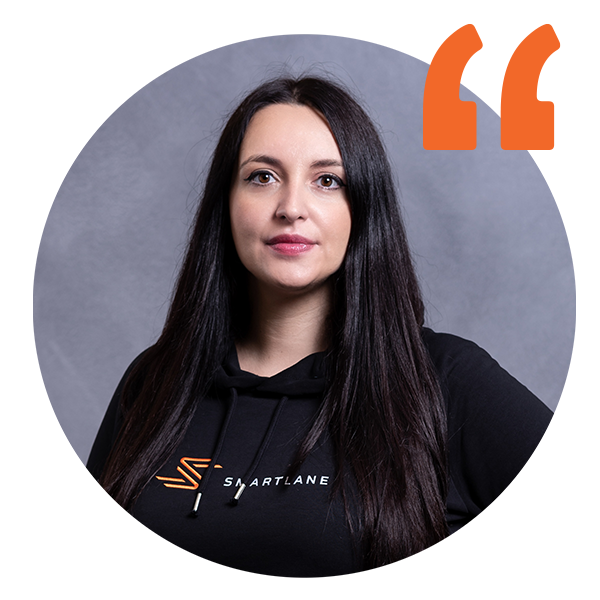 A relaxed and international atmosphere has always been important to me. That's why Smartlane is the perfect place for me to work! Everyone can contribute their own ideas and together we are on our way from hidden champion to global tech champion every day. I look forward to you joining us on this exciting journey.
Amela, Senior Marketing & PR Manager
What we offer you
Smart product
Great product with a strong focus and aspiration.
Teamspirit
Highly motivated team that wants to make something big together.
Flexibility
Flexible working hours and workplace – e.g. through home office & remote working.
Development
Growth is a top priority for us – also for our employees! We offer a generous training budget so that you can develop personally and professionally.
Fitness Support
A day at the desk can be tough on your back! That's why we support you with height-adjustable desks and an Urban Sports Club membership.
Modern equipment
The most modern technical equipment with MacBook or Lenovo, Samsung smartphone or iPhone – you are spoilt for choice!
Do you want to get started with us?
This is what awaits you!
Simply apply with or without a cover letter via our applicant portal.

After reviewing the applications, we will contact you within a few days.

In a 30-minute video call with the HR team, we talk about mutual expectations and give you a few insights into the company and the team.
Welcome to the next round, your potential teamlead wants to get to know you now! The stage is yours – we look forward to getting an insight into your experiences and learning more about your skills!
Time for a good coffee and a quick chat with our founding team.
Blog
In private life, it is no longer possible to imagine life without it. The concept has been given special significance for some years now, but increasingly so in the world of work. The course of time has shown that employees and above all their satisfaction are elementary for the joint success of company and employee. Happiness can be significantly influenced by understanding, listening to and implementing their needs. Whether it is the balance between family and career or hobbies, which one would like to follow, the classic 9 to 5 job makes it almost impossible to "reconcile everything in a suitable form".

Honest cooperation, transparency, and a focus on our vision are rooted in our everyday work and part of our Smartlane mentality. Because we know: You can only get ahead with the right team. To find the perfect "match", we have established a multi-stage application process.

Our blog is for anyone interested in the diverse and exciting career opportunities at Smartlane. It is important to us that our applicants get to know and love Smartlane even before their first interview. In our career blog we will inform you about all topics related to our recruiting, application processes, onboarding, employee events and general HR topics.
Frequently asked questions
I am interested in multiple positions at Smartlane. Can I apply for several positions at the same time?
If you are not just a specialist in one area, you are welcome to apply for several positions  at the same time.
Can I contact the Smartlane team directly?
If you have any questions, please feel free to contact us at jobs@smartlane.ai. We will get back to you as soon as possible.
What happens at Smartlane with my unsolicited applications?
Even if we don't have a suitable job at the moment, we are happy to receive an unsolicited application. Your unsolicited application will end up in our applicant pool and will be screened by Recruiting and forwarded to the appropriate departments. Simply state the areas of expertise in your cv and where you see yourself working in the future. If we can not offer a suitable position,we will store your application in our applicant pool and get in contact with you if there is a suitable job opening.
What is the selection process?
After we receive your application, we check it carefully and after a few days you will get the first feedback. You have been invited to an interview? Great, then you will have a first interview with our lovely Nina. In the second interview you will get to know the team and the team leader of your applied department. If this interview also went very well and you impressed them with your skills, you will get to know our founders in the third round and be able to convince them of your abilities.

If you apply for a "Head of" position, the recruiting process is not quite finished yet. In a final interview, you get to know  our investors.
How do I prepare myself for an interview?
The best way to prepare yourself for an interview is to compare the requirements and skills with the job advertisement. If both matches, it is of course desirable and appreciated if the candidate informs himself about Smartlane and the industry and also finds out for himself what his expectations of Smartlane are. Since we would like to get to know you personally as well as possible during virtual conversations, test your equipment (microphone and camera) in advance. This means that nothing stands in the way of a smooth process with image and sound.
How does my first week of work and onboarding look like?
To help you get to know Smartlane and the different areas even better, we invite you to our onboarding sessions during the first days. In a total of six onboarding sessions, you will gain insights about Smartlane and the founders, HR/People, Marketing, Sales, Customer Solutions and Engineering. Of course, we would also like to get to know you on a personal level over lunch (lunch lotto) or a delicious cup of coffee.
How does my onboarding work as a fully remote employee at Smartlane?
Onboarding is the most important time to internalize the Smartlane culture, build your professional network, get to know your team and our product. That's why we organize onboarding on-site whenever possible and encourage newcomers to spend their first days in the office. If it's not possible to attend an in-person onboarding, we'll make sure you're well integrated into the virtual onboarding. We will send the hardware and your "Welcome Package" before your first day at work. During six virtual onboarding sessions you will have the opportunity to get to know our departments and the Smartlane culture.
What are my working models at Smartlane?
Basically, you can say that there are three different working models available to you: You have a 100% remote contract, a hybrid contract (home office days are fixed) or a 100% office contract.
What benefits are offered?
For us at Smartlane, it is extremely important that every single employee feels welcome. We offer several benefits for our team, for example, the flexibility we offer you, fitness support, but also the most modern equipment.
What kind of training opportunities do you offer?
Continuous growth and further development are very important to us – also for our employees! For this purpose, we offer a generous training budget of € 1,500 per year, so that you can develop personally and professionally.